Reparations: By the Polling Numbers
As pressure increases on presidential candidates to discuss the topic, a look at what voters might be thinking
Publisher's Riff
The 2020 presidential race, particularly on the Democratic side, continues shaping up into an unprecedented spectacle. Many observers consider the Democratic presidential primary as, arguably, the most diverse field of strong, credible candidates showcased in any major national election cycle. There is a growing field of candidates from across the racial, political, philosophical, gender and geographic spectrum; it's the first time we've seen two extremely viable and highly experienced Black candidates competing in the same primary space. And it's the first time we've seen, in any major election cycle, a rather significant and vocal focus on the issue of reparations for the descendants of African slaves in the United States. That conversation is featuring prominently in the Democratic primary, along with pressure from Black activists, political leaders, and community organizers to force presidential campaigns into vigorous discussion on "the Black agenda."
It's not the easiest conversation. However, it's an essential one and candidates should consider ways to have it with the broader electoral audience (and not just in a way that quickly gratifies or panders to the Black segment of that audience). Still, it's remarkable that a few presidential candidates are tackling it out in the open.
Candidates will have to gauge where the public mind is on the topic of reparations. There's no real-time, current polling data on it, but it would be a good time to explore previous polls to see how voters are considering what is an extremely sensitive issue fraught with risk for candidates.
---
this Riff Sponsored by …
---
Here are a number of polls to take a close look at when considering the national electorate's mood on the topic of reparations, especially during it's evolution as a litmus for Black voters …
MSNBC (2019)
While we're not certain on the origin date, there's an interesting user-created and fairly non-scientific poll at MSNBC's website that's generated more than 2,700 responses on the subject …
Rasmussen (2018)
The most recent poll, thus far, is from Republican-leaning Rasmussen. That was in response to controversial March 2018 comments from Rep. Maxine Waters (D-CA) on her support for reparations. We don't see the demographic breakdowns, but Rasmussen shows 70 percent opposed to the idea.
Marist (2016)
Marist polled the subject in 2016, take note of the Black versus White versus Latino attitudes on the subject ….
White Americans, 81%, are much more likely than African Americans, 35%, and Latinos, 47%, to oppose giving monetary compensation to descendants of slaves. Similarly, 85% of white residents, but, only 32% of African-American adults are against giving reparations to all African-American citizens. Of note, Latinos divide about whether or not reparations should be paid to the descendants of slaves. However, a majority of Latinos, 54%, do not support paying reparations to all African Americans for the harm caused by slavery.
PBS (2016)
PBS' Point Taken followed up in conjunction with the Marist poll by hosting a broadcast panel debate on the topic and carried out a somewhat non-scientific online poll after the discussion …
Kaiser-CNN (2015)
The Kaiser Family Foundation in conjunction with CNN posed this same question in its 'Survey of Americans on Race' …
YouGov (2014)
YouGov, in response to the spirited debate sparked by Ta-Nehisi Coates article in The Atlantic entitled 'The Case for Reparations,' carried out a comprehensive, segmented poll, as well. Here are some fascinating responses, particularly when the historic struggles of other groups are compared …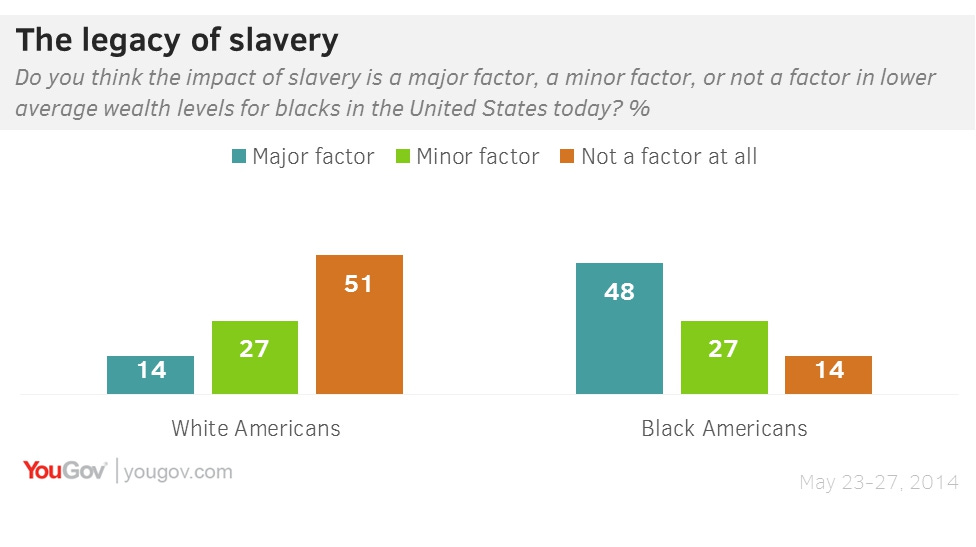 Roper Center (2012)
The Roper Center at Cornell University found that in recent years, the larger public is growing less and less convinced that slavery has traumatized African Americans economically. Notice: the drop in empathy for worsening Black economic conditions begins in 2008 with the election of President Barack Obama …
Gallup/CNN/USA Today (2002)
Gallup explored this topic along with CNN and USA Today as plaintiff Deadria Farmer-Paellmann named dozens of U.S.-based corporations responsible for profiting off Black slavery …
Nine out of 10 white respondents said the government should not make cash payments to slave descendants while 6 percent said it should.

Among black respondents, 55 percent said the government should make cash payments and 37 percent said it should not.

The poll surveyed 1,001 adults -- 820 of them white and 146 black -- February 8-10. The poll had a margin of error of plus or minus 9 percentage points for black respondents and plus or minus 4 percent points for white respondents. The percentages differ because of the difference in the number of people surveyed.

The same people were asked if corporations that made profits from slavery should apologize to African-Americans. Among blacks, 68 percent said they should while 23 percent said they should not. Among whites, 32 percent said they should and 62 percent said they should not.

Three-fourths of black respondents said the companies should set up scholarship funds for descendants of slaves and 20 percent said they should not. Among white respondents, 35 percent of respondents said they favored the scholarship funds while 61 percent said they were opposed.